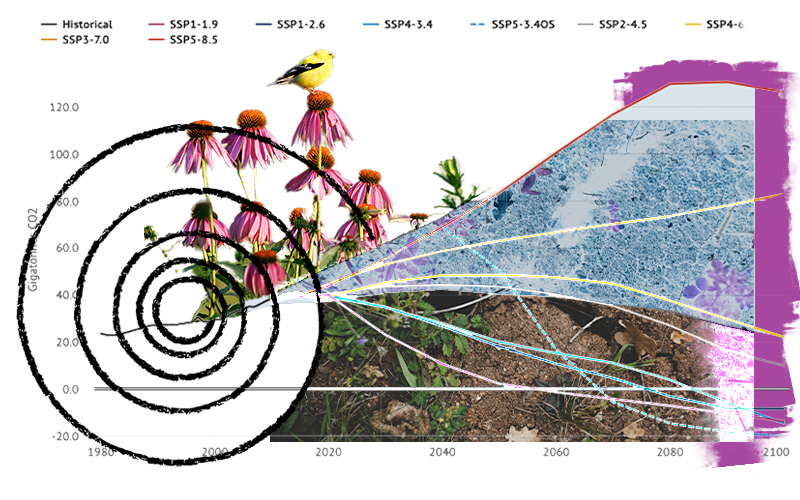 17.

Nautilus

"You were right," Duncan sighed miserably from the ground where he was kneeling.

Naomi looked back. She and Maya had already started down the slope toward the smoke and gunfire. Hopefully Eliana would have the sense to hide and not try anything stupid before they found her. Did she have some kind of lab in the city? Duncan had fallen into a disconsolate fugue state after he handed over the gun and she figured he was out of commission. But even broken and exhausted, the ex-professor's tumultulous thoughts were evident on his brow. "Betaville was already weakening at the seams… Even before—" he gestured at the column of black smoke, "all this."

"People aren't meant to follow orders," Maya stated plainly. "Once you get enough of them together, there are bound to be disagreements."

"We have systems for resolving those. Designed by the best sociologists and political scientists," Duncan replied. "But it seems that our preparations were not up to the challenge of… lying, selfish, devious little men."

Naomi shrugged. "That's pretty much all of them."

"Curating the best people from Earth wasn't enough," he continued. "And I don't think these newcomers are going to help at all. So what is Betaville without the Lottery?"

Maya leapt to answer, and Duncan's face showed the satisfaction of a teacher unspooling a lesson. "It's still the most advanced city humanity's ever built, running petaflops of proprietary algorithms," she observed.

"It's tech," Duncan agreed.

"And tech can be reproduced," Maya said with a grin.

Getting to his feet, Duncan held up a pair of fingers. "Two trials. Two planets. Better odds. I'll stay here and try to keep things running. Whoever these people are, they'll need to keep the colony operational if they don't want to die out here."

Naomi thought of Alvar Emmerich and his web of underlings. "You'll be valuable, I'm sure."

"Maybe I can organize the colonists, mount some kind of resistance. Even if it takes—" he frowned, "—time. My whole life on Earth, it's been a race against time. Trying to transform society before ecosystem collapse locked in. It seemed so much easier to start anew on Themis. But I think it's going to be a long road for both planets."

"If we can get back through the Portal," Maya asked, "What can we bring with us? Are there master plans, hard drives? Something to help people on Earth copy what you've done here?"

Duncan smiled. "You don't need to bring anything."

It was early morning when the Raz sisters and Maya Dorado arrived at Cedar Ridge. The helicopter had run out of fuel somewhere in the Carolinas, where Naomi managed to land it at a backwoods airstrip. The owner didn't have wallets for any of the cryptocurrencies Naomi offered to summon into existence but was open to bartering for some assault rifles that had been stowed in the rear of the chopper. Another couple hundred miles north, and she put the aircraft down in the asphalt expanse of a Walmart parking lot, where she proceeded to hack an electric Jeep. Emmerich would find the abandoned helicopter soon enough, so she used a utility knife to carve "I QUIT" into the metal of the dashboard.

The housing community where Duncan Tupper had lived — before departing Earth — was an attractive plot of wildflower meadows and new construction nestled between more traditional Boston suburbs. On their way past the city, they had observed the retaining walls being erected in the harbor and the displaced water creeping into less affluent lowlands.

Cedar Ridge was just waking up, with some early commuters biking or carpooling past them as they pulled into the main road. Life on earth continued as usual. They had the car's radio on all night as they drove, waiting for an announcement that Agipan's Lottery was a scam; that the mechanism shaping the daily lives of billions was no longer relevant; that your life wasn't about points anymore, but just messy, ill-defined consequences you might not ever be aware of. But no such announcement came. Everywhere they looked, people were still checking their Merits.

Even bleary-eyed from the drive, Eliana excitedly pointed at a pair of large spiral-shaped buildings and expounded about geothermal heating and other numbing details of the structures. Duncan's former apartment was on the ground floor of Nautilus One, but he had told them to head for the neighboring field.

Goldenrod peppered the unkempt landscape. More obscure wildflowers and shrubby trees filled out the bristly surroundings, leading them into marshy barrens and the quiet drone of distant highways. Duncan had memorized seven digits each of latitude and longitude, and she and Maya had both taken responsibility for one sequence. On their way up, Naomi had been too paranoid to buy even a prepaid phone but had found a clunky GPS unit at a gas station that produced the appropriate numerals.

That and the shovel they procured from the Cedar Ridge community garden were all they needed as they waded into the wild vegetation.

"42 point 50723!" Maya sang out.

Naomi stopped at the edge of a round pond and muttered her now psalmic reply, "70 point 99636."

Those numbers were only good for a precision of a few meters, but Duncan had described the alignment of some gnarled old trees for the last bit. The shovel wailed into earth. Naomi kicked her foot down and wrestled with the terrain until she hit metal.

Eliana and Maya sat on the banks of the muddy pond, pointing at songbirds as they whistled through the air. She wouldn't have asked them for help anyway. Now that Naomi was cut loose from her employer, she was glad to steal cars and break a sweat in service of the agenda they had devised on the shores of Themis. Without some kind of mission driving her, she would be stuck with nothing but her own thoughts.

Duncan's utter conviction with regard to his pet colony had been quite annoying. But somehow between their breakfast in quarantine and when he came running up the cliffs later that day, his faith in Agipan's colony had withered. And even after that, he simply realigned his plans for the futures of two worlds in a pragmatic approach that Naomi admired.

She approached her companions and showed them the contents of the unearthed safe: three gunmetal hard drives cradled in bubble wrap. "Now we need a computer," Eliana observed.

After trekking back through the field, they found themselves at the rear entrance to Duncan's old apartment. In a fit of paranoia, he had apparently ran straight into his backyard and stashed these backups of data related to the colony. Now his door stood locked and his home stripped of personal belongings. Naomi peered through the glass door and imagined Agipan staffers doing a sweep of the rooms. Eliana was gazing at the shadowy interior too, presumably reflecting on the similar erasure of her life in California. But unlike every previous person who had emigrated from Earth, her sister had come back. Naomi smiled ever so subtly.

She saw her sister smiling too, watching Maya trek off along the gracefully curving wall of the Nautilus complex. "I've got an idea!" she called back to the sisters. Eliana blushed when she saw Naomi assessing her gaze, but they didn't say anything.

Zipping along the edges of the building, Naomi saw windows into domestic life. Snarls of computer cables behind a desk, blast zones of children's toys, tropical houseplants leaning into sunbeams. She thought of her apartment in London, her storage locker in New York, and the accumulated treasures of her years on Earth. They would be on the run after this. Forfeiting her favorite clothes and artwork, her collections of bespoke kitchenware and vintage watches. Some of the more unique items, she might locate at auction, unless Emmerich hoarded them himself to spite her. And even then, she knew some good thieves.

Money would be a problem though, at least if she was going to let her virtuous sister constrain their path forward. No four-star hotels, but she had some favors to call in and knew how to keep a low profile. A benefit of knowing how to find people was knowing how to stay hidden yourself.

The wooden building wrapped in on itself, but never closed entirely, eventually revealing a sun-dappled courtyard festooned with café tables and remote workers hunched over laptops. There were trees planted throughout the space, but they were too young to provide significant shade. Perforated canopies were suspended overhead like the blades of a camera's aperture, twisting in from the sides of the round enclosure and deflecting the summer heat.

Maya stepped forward. "Hey! Who's on EcoHub?" she hollered, and several heads looked up from their screens. A few hands tentatively raised, attached to the sort of people Naomi might expect belonged to the open source sustainability movement: tattooed, fashionably rustic, and bearded. It was the same collection of hi-tech farmers and leftist organizers that included the residents of Blazing Star, where she and Maya had literally wrestled their objectives into alignment.

The little reporter walked over to a man hidden behind a dazzle of lapstop stickers and color-blocked flannel shirting, and leaned over his laptop. "My friends and I," she gestured at the Raz sisters, who along with Maya were still wearing their Agipan-blue jumpsuits, looking like some kind of janitorial dance squad, "have twelve terabytes of proprietary Agipan data, ripped straight from the colony administrators and ready for you to upload to your servers. We just need a hard drive enclosure and a cable."

Naomi watched the man's eyes go from slightly afraid, to opportunistic, to a sort of panicked awe. "We also need to message someone on the Hub from your computer," she added.

"Uh, here you go. I can grab the stuff from my office." He spun his laptop around and sprinted to a nearby door, fumbling with the handle.

Naomi sat down and Eliana watched over her shoulder as she pulled up the EcoHub dashboard. "Who are you contacting?" her sister asked curiously.

"Someone we met on our way to find you. I want to make sure people understand what this data is for."

Maya sat down in another chair, kicking her feet up onto the table. "That guy David? He totally had the hots for your sister back in California." Maya grinned, hoping for a reaction.

She drew out the silence with a stare. "He wasn't half bad," she admitted before changing the subject. "Do you want to contact your paper… or post a Tweetstorm or something?" she asked Maya.

"I have material for weeks of news cycles, and I've got a dozen ledes already written up here." She tapped her head. "But we should probably move after we click upload right? Someone could trace the IP address of" — She looked at the laptop screen — "Jason, here."

Eliana nodded. "Agipan… Emmerich…"

"The FBI." Naomi added, invoking tense contemplation.

Maya nodded. "But yes, I am resisting a strong urge to run around screaming about Agipan and shaking these nice people like the end of Invasion of the Body Snatchers."

Naomi stared, uncomprehending. "Was that... on the approved list of media to bring to the colony?"

"Was that… a joke?" Eliana feigned amazement.

Maya raised an eyebrow. "Is there actually a list of sanctioned films?"

Naomi placed her fingers on the keyboard.

David,

If the local authorities did their job, they will have discovered that Maureen Donovan died before I arrived at your community that morning. I followed the trail she left behind and acquired a trove of data related to her former employer's colony on Themis.

"Oh come on!" Maya appeared over her shoulder. "We need this guy to leap to action. Here, let me." She pulled the laptop toward her and danced her fingers over the keys.

Naomi scanned alongside her. "No," she declared, then grabbed the computer to delete a passage. "And no emojis." Maya rolled her eyes. Finally, Eliana drifted in behind them and the three of them silently read it through before hitting send.

David,

I'm sure you remember me from a week ago, and hopefully not as a murderer. If the local authorities did a their job, they will have discovered that Maureen Donovan died before I arrived at your community that morning. She died protecting information about her work at Agipan — not to protect the company, but to loosen their grip on the world.

I followed the trail she left behind and acquired a trove of data related to Agipan's colony on Themis. These plans and algorithms will be posted to EcoHub very shortly, empowering the work of communities like yours around the world. It may be too late to return Earth to a pre-industrial climate, but everyone here should have the same technology and resources as Agipan's colony.

You should also expect news to arrive soon that throws into doubt everything you know about Themis and the Portal. The story Agipan has told about their vision has not been honest, and while there may soon be new regulations about who can and cannot travel between worlds, I'm sure there will be countless other theories and narratives clammoring online.

People's faith in Agipan's version of the future will be broken, and people like you will need to offer an alternative. These plans won't save the Earth on their own, but you know that futures aren't written alone, they are built by many hands.

Good luck.