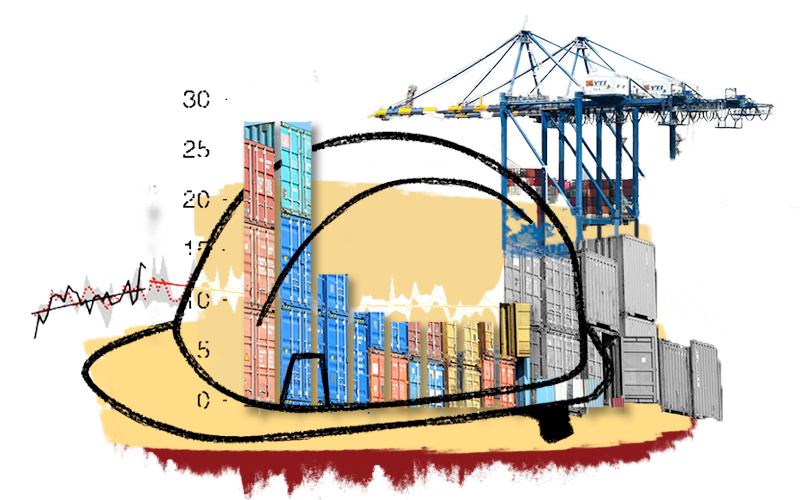 10.

Knock, Knock, Knockin'

As a journalism student at USC, Maya had imagined her adult self interviewing freedom fighters in mountain hideouts, or meeting government informers in dimly-lit parking garages, but until last week her job had mostly been spent in air-conditioned coffee shops. She mostly sat at home and expanded Tweets into longform journalism. Now that she was tiptoeing along the perimeter of a Bahamian shipyard with some sort of mercenary hacker, she felt somewhat vindicated, but mostly, unbearably sweaty.

Freeport was a free trade zone on the island of Grand Bahama that once hosted a bizarre mix of idyllic tourist destinations and industrial shipping. But as the sea level rose, beaches were swallowed by tides, resorts shuttered, and the cruise lines received withering contempt from anyone interested in Merits. People found easier places to vacation but interrupting the constant flow of goods through the commercial shipyard was never an option.

Immense seawalls encircled the container port on three sides, with a tangle of sand and vegetation surrounding the entrance by land. Stacked metal boxes protruded from below sea level: a pit of commerce too valuable to abandon. Maya and Naomi surveyed the port from a hill outside the fenced perimeter and watched as cranes and trucks loaded containers onto the enormous Pegasus freighter.

"So…" Maya began, "you don't know why Agipan wanted your sister? Beyond her general awesomeness?" After Naomi had revealed the whole situation with her sister, Maya had wasted no time looking up the younger Raz online. She found a widely documented career of volunteer work around the globe and academic research in everything from robotics to aquaculture. Eliana Raz wasn't much older than Maya, which sparked a pang of professional jealousy when she looked at the beaming photos of Eliana's Instagram. She hadn't posted anything in three weeks.

"Something with bioengineering," Naomi replied without lowering her binoculars. "I had a colleague look into her research records, but she seems to have taken a lot of that with her." Naomi had been surveilling the port for what felt like hours, while Maya lay in the shade under a shaggy palm. They had destroyed their phones back in California, and Maya's fingers were still twitching toward her pockets in search of a screen to caress. It was actually kind of nice to escape her inbox and feeds, but the Agipan app had been her ever-present witness for years. Without real time feedback on her decisions, she felt rudderless and alone.

Naomi put down the binoculars. "There's only one guard at the gate. If we move now, I can take him."

Maya sat up. "Like take him out?"

"We found Agipan's fingers all over this shipping company, like Redding said." She stowed the binoculars in a very tactical-looking backpack. "Their boats pull out of here every two weeks, and whatever they're moving is going to be loaded on if we don't hurry."

"But there's got to be a way in that doesn't involve killing someone!"

Naomi shrugged. "They say you can't do a job fast, easy, and cheap?" she recited, starting down the hill. "Same deal."

Maya ran after her. "No!" she yelled, grabbing Naomi's arm — who whirled around and slammed a hand over Maya's mouth.

"Quiet!" she hissed, releasing her grip.

"I want to know what's down there too," Maya exclaimed, "but I'm not going to watch you murder someone to find out! Do you really think your sister would want you going on a killing spree because of her?"

"I've done… a lot for her over the years. This guy just has the bad luck of being in my way." She gestured at the checkpoint down the hill and locked eyes with Maya for several seconds while the clang of industry echoed up from below.

"Let me try something," Maya urged.

She undid her hair and shook it loose. From her own backpack, she produced a cotton button-down and threw it at Naomi. "Put that on. You look like an extra from The Matrix. Then follow me and try to look clueless." Naomi raised an eyebrow. "Yeah, like that." She marched toward the gate.

The guard watched them approach from the window of his roadside booth. He was younger than Maya had expected. A white and orange boom extended across the road, barring entry to the canyons of shipping containers.

"Hi there!" Maya shouted, in her best valley girl falsetto. "We came ashore from our friend's boat and got kind of lost in all these hills." She walked up to the gate and leaned over the road barrier provocatively, smiling at the uniformed guard. "Is there somewhere we could freshen up for a minute? Maybe with AC?"

"Ask for a phone," Naomi whispered.

"Maybe you have a phone we could use?" She winced guiltily. "I dropped mine in the water."

After a moment's consideration, the guard led them both into the booth and handed an old-school wireless phone to Maya. "Thank you sooo much!" She passed it to Naomi, who punched in a long number and looked out the window as it rang.

"Hi honey," she said to whoever was on the other end of the phone, "Sorry I didn't call sooner, we got lost on our walk." Maya smiled awkwardly at the guard, who seemed bewildered at their presence, but was probably bored out of his mind. His lanyard-secured ID identified him as Rodrigo.

"Yeah," Naomi continued, "I'm at the Freeport container yard... Mm-hmm, it's that thing I told you about." She turned to face them, and Maya wondered if she was going to snap Rodrigo's neck after all. "Okay, thanks. I'll let you know." And she hung up.

Naomi slowly handed it back to Rodrigo, who stared at her inquisitively.

"Phew!" Maya said, improvising, "it's a hot one today, huh?"

The phone rang, still in Rodriguo's hand. "That's for you." Naomi stated coolly. The guard engaged in a rapid back-and-forth with whoever was on the other end, during which Maya tried to wordlessly query Naomi about what the hell was going on, but Naomi just stared at the guard with a sort of mournfulness until he hung up. "That was my supervisor," he said, visibly confused, "he said you can go into the port."

Naomi grabbed Maya by the shoulder and led her outside, waving to the guard "Thank you for your help!"

"What about your friend with the boat?" he shouted after them.

"Don't worry about it! I've got other friends." Naomi called back, and then they were walking along the sun-baked road toward the towering rows of shipping containers. When they were alone, she nodded at Maya. "Nicely done."

"Who the hell did you call?"

She sighed. "My employer," she said, gesturing at the bustling workers and machines around them, "these big companies are all connected when you go up the ladder high enough."

"And you wanted to kill that poor guy?" Maya whispered. "That was so easy!"

"I would have preferred not to involve him."

Maya nodded, wondering who this woman worked for exactly, as they passed into the shade of a towering wall of shipping containers. Each stack of primary-colored boxes felt massive as they walked by, but it was the central avenues that really showed Maya the scale of this place: flat planes of asphalt that stretched into the heat-shimmer of the horizon. She imagined the boxes gone, the vast gray surface extending in all directions like an old computer game.

During the flight from Florida, Naomi had accessed the manifest for the Pegasus freighter. Tom Redding had only told them the name of the company, but it hadn't taken them long to find financial records linking the ship to Agipan. The green tech behemoth moved innumerable Pan phones and consumer products through global shipping lanes, and no one could be expected to find this particular ship, nor, among its hundreds of containers the few designated as Agipan property, and the single container whose contents were marked "CLASSIFIED."

They made their way toward the Pegasus and the containers waiting to be harvested by enormous cranes. Naomi swiped a couple hard hats from a parked golf cart and tossed one to Maya; there weren't a lot of twenty-year-old women wandering around, but she supposed the half-hearted disguises might help a little. They scoured the containers for IDs.

She was starting to fear that the mystery box had already been loaded, or else was buried deep in a pile of metal when she spotted the number she had memorized on the plane: AGIP 390021.

It was on the second level of containers, about nine feet off the ground, and its yellow paint looked particularly battered and corroded. The two women exchanged a look, and Naomi began scaling the metal locking mechanism of the container below. "Sure, I can do that too," Maya whispered to herself.

Naomi was hanging onto the outside of the container, examining the latches on its door, when someone grabbed Maya by the shoulder.

"Hey, what're you doing here?" It was a big dock worker, wearing the same hard hat as Maya, but looking much more natural in it. "You got ID?"

"Um," Maya stammered, glancing up at Naomi. The man's eyes followed hers and paused at the sight of a second woman perched on the container wall like an insect. "Hey you!" He shouted, reaching for a walkie-talkie on his belt.

Maya kicked him between the legs. He bent over, stunned, but still looking quite intact and larger than her. "Naomi?" she looked up helplessly. Her companion gestured at her hard hat and then at the man; Maya slapped at his head and the helmet fell to the ground.

Naomi launched herself up into the air and floated there for a second as she aligned her body and came down like a hammer on the man's shoulders, her feet slamming his head into the pavement with a multisyllabic crumpling sound, then crouching on top of him like a cat guarding its prey.

"Ohmygod," Maya said. "Is he…?"

"Yeah." Naomi stood up. "Help me drag him behind those other containers."

Maya felt herself obeying the command even as her brain was still standing there watching it happen over and over. She watched Naomi prop the body against a container and return the hard hat to his limp head, tipped down over his eyes like he fell asleep. Then Naomi pulled her gun from her backpack and looked around the corner—for what? More victims? Maya stared at the gun, recalling the heavy rumble of automatic shots in the streets of D.C., when Oliver Park had escaped with his life. Now she was thirty feet away from whatever it was Park was paying a fisherman in Florida to stay mum about, and she was sitting on the ground next to a dead man, clutching her knees to keep them from shaking.

"Hey, you're okay." Naomi crouched next to her. "You're in shock. Look at me and breathe."

They sat there for several minutes while Maya fought back tears and Naomi counted her through ten inhales and exhales. "I'm going to go back up. I'll tie a rope for you if you want to follow, but you can stay here if you want."

As Maya stared at the dock worker, she could hear Naomi clamber up the metal wall again and contend with the locking mechanism, balancing on rails and levers to pry at the container's door. She imagined telling her editor she knew where the Portal was, and how Park had kept it concealed, along with a grocery list of corporate secrets and espionage. But she would leave this part out. She imagined this last week being worth it, imagined billions of people deleting the Agipan app after reading her dissection of their scheme. She imagined herself being strong and then stood up and walked toward the dangling rope.

Finally, there was a metallic creak. Naomi wrenched open the container's door enough for Maya to slip inside. She had expected to see more of the ribbed metal from the outside of the container, encasing boxes or barrels or who knows what, but she found herself in a room lined with curvilinear bulkheads and lit with the blue glow of several dozen screens. It was like the bridge of the Enterprise, and while there wasn't exactly a captain's chair, there was a man sitting in the far corner encased by an elaborate safety harness. He removed a pair of glasses from the pocket of his sky blue jumpsuit, fumbling to put them on and squinting at the daylight. "Who are you? I thought I was the only one going."

She stepped closer, scanning the displays around them: oceanographic maps, burbling numbers, diagnostics on the container itself. "Yeah... me too. Who are you?"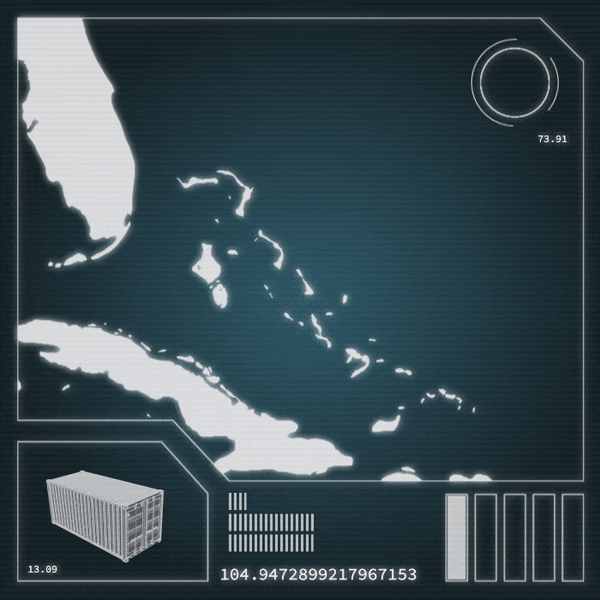 "Duncan Tupper, Resolution Council." He looked at her nervously. She recognized the name, though she couldn't recall if she'd ever seen a photo of the man; his scruffy, unshaven face wasn't particularly memorable.
Maya stammered, "I… I'm with Agipan."
Naomi appeared behind her, and Tupper leaned forward as far as his harness allowed. "Her too?"
"Definitely not." Naomi said, pulling the door shut. Tupper's eyes widened and he began futzing with his harness, but then Naomi was standing in front of him with a gun. "What is all this?" She asked, casting a gaze at the control panels and pulsing LED indicators around them.
"It's a transport," he announced, just as the lights shifted from blue to red and a chorus of notification beeps erupted around them. A thunderous clang sounded overhead and the entire container shifted beneath their feet. Maya braced herself against the nearest wall and Tupper gripped the straps of his harness.
"We're going onto the boat." Naomi surmised.
"We're going to Themis." Tupper corrected, smiling. Maya and Naomi exchanged a look as clamps and conveyors reverberated outside, and they were jostled through the air for a minute before finally feeling the gravity of solid ground again. In the abrupt silence, Maya wiggled her toes to ascertain if she was having a panic attack or if the gravity pulling down on her was different than the 9.8 m/s² she had known her entire life.