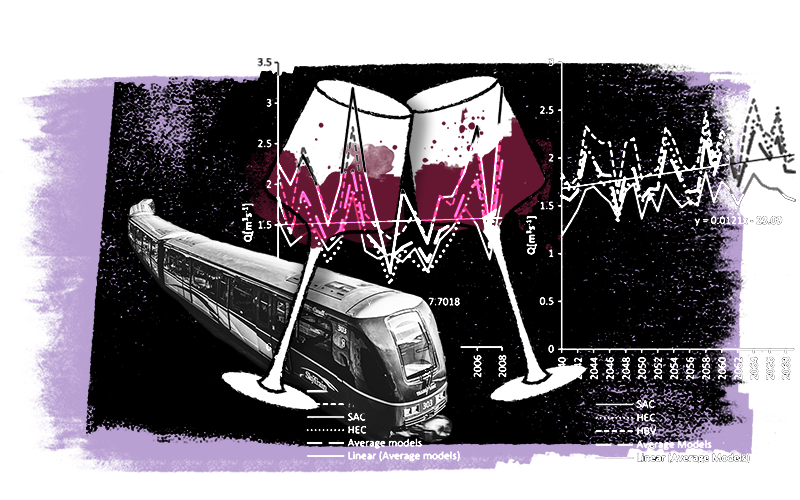 5.

There Ain't No Such Thing

Maya turned on the faucet and there was nothing but ominous silence. She waited. A groan erupted from deep within her as she realized she would not be able to shower before leaving for the train, having passed out last night grimy and exhausted. Water shortages were getting more common, but it could easily mean looting and chaos if the problem lingered. She packed up and scrambled down the hotel stairs with her bags.

Piscataway Station was located several Metro stops away, on the outskirts of D.C, but that was the only place for the massive structure and tangle of tracks that ran through it. Built during the early days of the Green New Deal, the National Rail stretched across the country, linking major cities with electric high-speed trains going two tracks in either direction. Some of her friends from high school had worked on it back in California, manning the factories or supervising the ubiquitous track-laying robots. Maya frankly couldn't believe how often people used to fly around the world in planes, but as carbon became anathema and regulations tightened, it became expensive in every way that mattered.

As the most affordable way to cross the country at speed, the NatRail was pretty much always at capacity. People still wanted their jet setting lifestyles in the face of a changing world. Maya used to be jealous of people who zipped around the country on trains and dirigibles. Her immigrant parents could never afford those things when she was little. But even the wealthy lost interest in frivolous travel after Agipan's Lottery made jet fuel a death sentence for your Merits.

All of this meant Maya had to get to the station two hours early to wind her way through the crowds. On the metro, she monitored the growing unrest in the capital, browsing posts about looted grocery stores and hijacked water deliveries, then looking up from her phone to observe protestors headed for the National Mall. One sign read "Oliver Park 4 President."

Once on board the train, a cloud of anxiety followed Maya west on the grimacing faces of her fellow passengers. Despite the news alerts populating her screen, Maya's thoughts veered back to the shooting and the tapestry of details her brain had absorbed: the blinding smile of a toothpaste ad on a passing bus; the protestors turning to face her at the sound of gunshots; the stern looks of Capitol Police watching it happen. She swore one of them waved at the shooters emerging from their black SUVs.

She had hoped to get to know the D.C. staff at the Bulletin, whom she knew mostly as virtual avatars from her post in California, but as usual, the world didn't slow down enough to make friends. Now she was being sent back to gossip with useless Agipan staffers at craft beer halls, cobbling together obscure details about the ranking algorithm or rumors about life on Themis. She had some promising sources, but not one person had disclosed the location of the Portal in the five years since it was announced. Everything else was just the same fluff over and over. Everyone knew everything they needed to about the Portal by now, except where the damn thing was.

She watched the landscape outside roll by at unnerving speed as her big story faded into the distance. People were always eager to consume new tidbits about Agipan, so her normal beat was popular — she had just published a story about some new Pioneers recruited to the colony, scientists and experts who had gone missing or otherwise tipped their hats about departing Earth — but a government conspiracy to kidnap Oliver Park? That was the kind of story she couldn't look away from. Her editor measured success in clicks, but Maya just wanted to make sense of the world, stupidly hoping that if she pulled back the right curtains and arranged things just so, it would stave off the dissolution of states and sanity.

Looking at the passengers around her, Maya couldn't stand the idea of sitting still with her thoughts for the two hours between D.C. and the next stop in Indianapolis — which meant it was time for background interviews.

The heavily tanned woman next to her was going to Chicago to begin a trek into the rural Midwest, hoping to find somewhere cool and remote. The Great Lakes were a popular destination for climate migrants seeking reliable water reserves, but Chicago itself was pretty dicey these days. What did she think about Agipan's Lottery system? "I tried that for a while, but my score started out really bad because I used to consult on those individually wrapped fruits you buy at drug stores. Never should have posted that on LinkedIn."_ _

An old man passing between cars said he wasn't interested in Merits. "I do what I can, but I ain't leaving my whole family and friends for another planet. I scaled down my home though. Donated a lot. I'm trying to do my part for the people stuck on this world after me."

She picked one of about twenty men in suits scattered throughout the car and asked if he ever thought he'd see the Portal to Themis. "Do I?" he replied, then lowering his voice, "I'll tell you what, that's where I'm going right now."

"Oh, yeah?" Maya snapped to attention.

"It took me a long time to figure out where it is," he stared at her intently, "but when I get there, they'll let me through or else I'll tell everyone their secret."

"So where is it? I'm a reporter. Maybe I can help get the word out if you want to expose them."

He laughed. "What are you, like eighteen? No, I don't know you. This shit is top secret." He pulled a stack of papers out of his bag and pointed at printouts of the Agipan Twitter feed. "See here?" He pointed at several Tweets circled in red marker with random words underlined. "Every time they post about Themis, if you look at the first letter… there's a code."

Maya sighed, as the man raised his eyebrows knowingly. He rifled through his papers to show her Agipan print ads marked up in Sharpie. She got the feeling that if she waited long enough he would pull out a roll of red string, so she politely excused herself.

Entering the dining car, Maya surveyed the people hunched over laptops or eating fully plated meals, realizing her own hunger was constraining her ability to work. Another train raced by in the opposite direction: a hurricane of blurred colors muffled by thick glass. She walked over to the long bar running down one side of the car and stood transfixed by the menu neatly written in chalk. There was a gallon Ziploc of protein mix in her bag, but she really didn't want to subsist on dried crickets and sunflower seeds the entire way to San Francisco.

She pulled out her phone to estimate how each item on the menu would affect her Merits. The steak was out of the question, obviously (sustainably raised but expensive), and per calorie, more detrimental to the world's carbon budget than the vegetarian options. She could wait until Indianapolis and try to snag some street food at the station. The train's fried rice might be a good option, but what if the rice was imported?

A tall woman sitting at the bar gave her a once over and asked "Hey, if you're having trouble deciding, I recommend the sea bass. They just picked it up in D.C. and it won't get any better as we head west." The smell of caramelized fish scales wafted from the woman's plate, which seemed like a bold meal to serve on a train, but Maya was the one in need of a shower, so who was she to judge?

"Oh, no, thanks, I'm just looking." She replied automatically, glancing at the short-haired woman, who stared at Maya lazily, gesturing as if to say, suit yourself. The woman sipped red wine and glanced at an empty barstool beside her.

Sitting down, Maya noticed the woman was working her way through an entire bottle of wine and must have made a face, because the stranger explained in an angular accent she couldn't place, "It's the best they have, but they won't sell it by the glass. Pretty good for train wine. Want some?"

She shrugged, and the woman reached behind the bar to retrieve a second glass without the bartender even noticing. Maya smiled politely and pulled out her trail mix. Her stomach was growling. A glass of wine would be devastating if she didn't eat.

"What is that?" The woman recoiled at her protein mix. "You need some real food to go with this. The winemakers would cry." She slid a small plate of antipasto toward her, and Maya eyed the ribbons of cured meat, pickled vegetables, and multicolor relishes. The moral equation of food consumption shifted completely if it was someone else's food, purchased with their wages and tied to their Merits. Maya would eat Japanese Wagyu if she could do it in secret. She imagined a clandestine buffet where she could throw off the guilt and consequences of material goods and forget about lab meat, cricket mix, and beans—oh, the beans.

Closing her eyes to savor the prosciutto, Maya forgot about the train, her assignment, and even the Portal, losing herself in the salty fat nurtured to perfection by years of air-curing.

"It's good, yes?" She had forgotten about her companion too but sputtered a gracious thank you through a mouthful of wine. Her phone vibrated, and the crush of responsibilities and scheduled tasks came flooding back. It was from "Don." She had been super careful with her data footprints and contact with the Agipan staffer-turned-leaker, and if she was being honest, Don was pretty cagey with details. Maya hoped that would change when they met in person. She just needed to get to her eco-commune outside Sacramento, and maybe come up with a code word to verify identities.
Don
I got you something.
See u soon.
Maya turned to the woman next to her. "Hey, do you remember the WiFi password?" she asked. "My phone seems to have forgotten it."
"It was some American landmark... Rushmore, I think"
"Thanks." She replied, while fumbling through her phone's settings. "Where are you from, if you don't mind me asking?"
The woman pursed her lips, as if trying to remember. "I got my accent in Israel, if that's what you're wondering, but I travel a lot."
"I'm sorry," Maya replied uselessly. She didn't want to probe too deeply there in case the woman had lost someone there during the climate conflicts. "Where are you headed now?"
"San Francisco, and you?"
"Same. I was in D.C. to cover the Senate hearing with Oliver Park; I'm a reporter." It felt good to have a normal conversation after interviewing people around the train. She told the woman about the shooting and how it cut short her rare chance to visit the East Coast while Don's file downloaded. "My name's Maya, by the way."
"Naomi," she replied, flashing a smile that was almost alarming in its perfect execution. They clinked glasses.
Maya opened the file once she was back to her seat. At first, she thought the schematic diagram showed some sort of machine, circular parts connected by lines like a circuit board, but then she realized they were buildings. She was looking at a map of Betaville! Or at least plans; she wasn't sure how much of the colony had been completed yet.
The rest of the trip was a blur, as Maya pulled up the map on her laptop and tried to make sense of its street plans and electrical grids. She would have to consult an urban planner or an engineer at some point, but this was still the most detailed look at the colony she'd ever seen. Way more technical than the glamor shots released by Agipan.
There were precious few photos of life on Themis. When Oliver Park first announced the Portal, he had presented a few snapshots as evidence of his incredible discovery, and some samples of rocks and alien plants for scientists to analyze. Themis had a burgeoning ecosystem that resembled Earth in the Holocene, or so she had been told by scientists. Young forests and grasslands inhabited by primitive animals just trying to stay alive in the cool climate, with no clue that their home was being invaded by world-destroying aliens. For billions of people in blistering cities or dying farmland, the images were like postcards from Eden.
It was dark by the time they arrived in San Francisco, but Maya was still wide-awake mulling over the plans she had received. First thing tomorrow, she was going to take a bus out to meet Maureen Donovan in person. She slowly exited the train, smushed among other travelers and resenting her parents' generation, whose past lives seemed free of crowds and rationing. When she was a toddler, they had taken a cross-country road trip, driving endless highways and eating french fries. Even her undocumented parents had gotten a slice of the good life before everything started to run out or become ethically forbidden. She ate her crickets and seeds while staring at the infrastructure of a better world.
Her desire to shower was at an all-time high. The combination of her urban assault sweat and train funk seemed like the obvious explanation for the glares she was getting from passing families, but there was a more specific unease that was churning around her brain; a sense of being watched. She hoped it was just paranoia about the leaked plans she had received. She peered at the security guards in the station despite her efforts not to make eye contact. If the government really was trying to kidnap Oliver Park and exert control over Agipan, who knew what they would do to keep their plans running smoothly? Recalling the conspiracy theorist on the train, she wondered if his delusions were contagious.