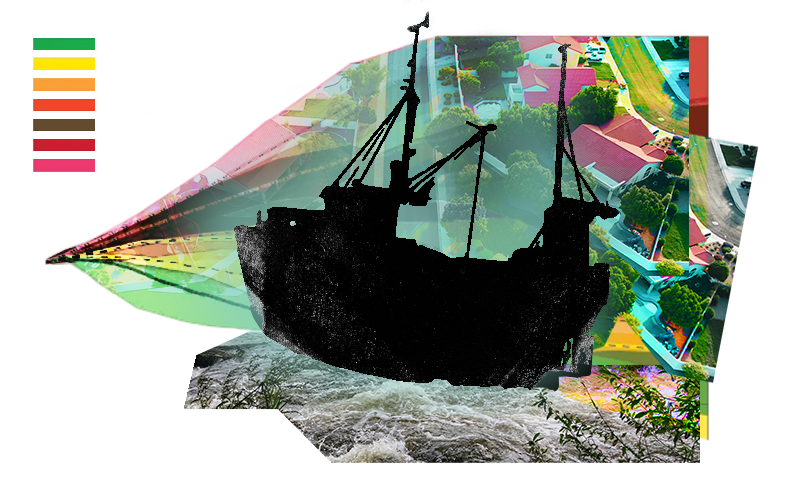 8.

Miracle Man

The clacking of laptop keys echoed through the jet's cabin. Naomi sat across from the little journalist in a nook of leather seats, periodically glancing up from their respective screens to gauge the intensity of the other's typing. They were eating up the plane's WiFi to see what they could find on Tom Redding, the Floridian whose name was passed on to them by the Agipan defector at the commune.

Due to the financial expense and immense Merit penalty, her traveling companion had never flown before and was a bundle of nerves when they boarded in California. As they prepared for takeoff, the luxurious interior of the plane had briefly distracted Maya, though Naomi found the oversized seats and gold-plating typically American and gauche. ,,m

Naomi had grown tired of researching Tom Redding and toggled between other browser tabs as she swirled a glass of bourbon provided by the plane's lone stewardess. Both were overly sweet. Emmerich sent message after message, asking for news about the Portal. He could surely find out where the plane was headed, but Naomi was hesitant to give him details until she had a better understanding of recent events. The murder at the commune could have been an Agipan cleanup, or a black ops move by the Americans, as Maya suspected, but in her experience, neither of those parties would so obviously get their hands dirty. She wasn't sure if Maureen Donovan's murder was connected to the attempted kidnapping of Oliver Park in Washington, but she sensed the currents of unseen forces. There were plenty of people desperate to find Agipan's portal — including her.

"What have you got on Redding?" she finally asked Maya, who looked up from her battered and sticker-clad laptop. On their way to the airport, Naomi had picked up some supplies and retrofitted the reporter's computer with a new WiFi antenna to avoid any tracking. Maya had watched with a certain awe as Naomi pried open her hermetically-sealed Pan Book, but had been less appreciative when she reformatted the hard drive.

"He's all over social media," she replied, "posting Evangelical memes, bible quotes, fish pics. He seems to work as a commercial fisherman. It seems like your typical Florida lifestyle, until I noticed that his social accounts only go back five years," she smiled, clearly excited "and most of them are under a variant name: Tim Reading."

"So he was late to the social media party and values his privacy." Naomi had seen this too but wanted to watch Maya unspool her thoughts.

"Yeah, but I found screenshots of Facebook posts on his friend's page, showing a more accurately named Tom Redding, pictured in older posts. So it looks like his account got nuked, along with any reference to his life before five years ago… Which was– "

"When Park revealed the Portal."

"So what if Redding was involved in its creation? Or maybe saw something and posted about it?"

Naomi nodded. "I think he was involved. I got a hold of his bank records."

"What?!" Maya looked incredulous.

"I had a friend brute force his login from a quantum computing center. Very expensive, but effective," she explained. "No two-factor authentication, just some local bank with junior-level security — which is weird because he's getting paid 80k every month. Someone should really know better."

"Yowza. So why is he working as a fisherman? Is it like some kind of weird retirement fantasy?"

"Looks like he donates most of it to charities. Environmental and religious stuff."

Naomi glanced out the window as they descended from the clouds. "The payments originated from an offshore shell company, but if you're right, then he's got something on Agipan they want to keep quiet."

Maya looked out the window too, as the plane banked low over marshland sliced by highways. Miami International had been abandoned during the floods, so they landed at a private airstrip and were greeted by a belch of hot, swampy, Floridian air. Naomi had no intention of getting whatever exotic disease was trending with the mosquitoes these days, so she quickly waved goodbye to the plane's crew and made her way to a waiting autonomous car.

The drive to Port St. Lucie didn't take long, though the car made frequent stops and detours to navigate the shifting landscape. As the coast moved ever inland, more and more people were forced to abandon their homes, leapfrogging each other and redefining the outlines of cities like vacillating amoebas.

They passed families camped out on roadsides and banded together in tent villages. Naomi was surprised the area hadn't devolved into total chaos. Regional jurisdictions were in flux and small-town cops couldn't patrol every urban tide pool, but even with their homes packed into their cars, people were still clutching their phones and monitoring their Merits. When faced with the reality of Earth's climate crisis, Agipan's ranking scheme became a bizarre motivator for helping your neighbors and sharing resources. It was a striking contrast to the hoarding and border patrols of her homeland, in its last days, and Naomi wondered how things might have been different if Merits had existed then. Or what could happen without them.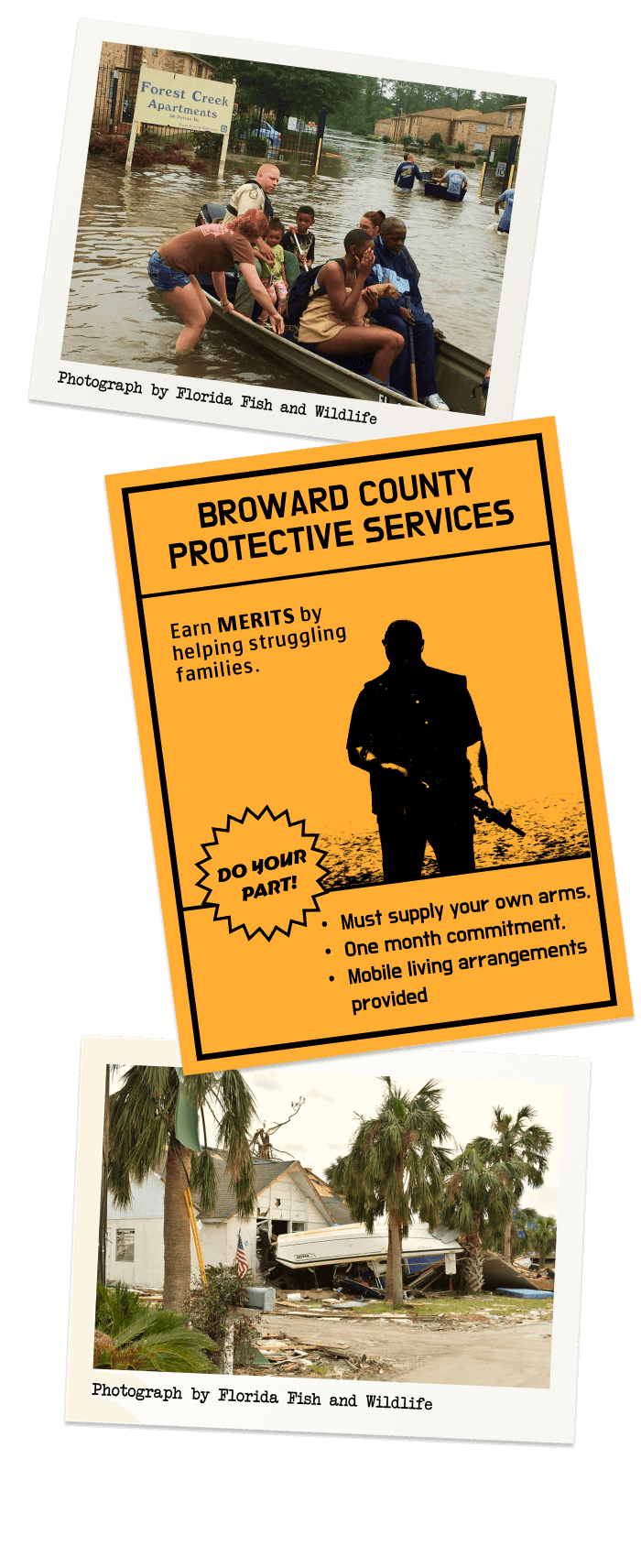 Redding's house turned out to be a sprawling McMansion in a neighborhood that had seen better days. Dotted between yacht clubs and golf courses, the bulging homes they saw out of the car's windows must have once accommodated wealthy families but were now host to squatters, migrants, and simply unbelievable growths of kudzu. The house that the car finally stopped in front of was just as bulbous and expansive as its neighbors, but it was in much better condition, evidently maintained by Redding, who was working on a small fishing boat parked in the driveway. They recognized Redding from photos. Portly and gray-haired, he was accompanied by a younger man who looked up as they approached.
"Hi there," Maya called out cheerily.
The old man stood aboard the parked boat, silhouetted against a gray sky. "I got a deed to this house. I ain't freeloading."
"Oh, that's not what we're here about," Maya assured him. "We're looking for Tom Redding."
Redding smiled thinly. "Sorry. I've had city folk come round askin 'bout that before, and I been here for five years. Rich white folk weren't too happy when I moved in, but I made this my home and I intend to stay here."
"The ocean might have something to say about that," Naomi mused.
"Why are ya here?" Redding asked. "I don't get many visitors, 'cept Morgan here."
The young man smiled, "And you pay me to be here."
"We want to ask you about Agipan and Oliver Park," Maya announced. "I believe you do some work for them?"
Redding laughed. "I ain't done nothing for those folks in years, but I can't discuss it, I'm afraid."
"Right, you probably signed an NDA," Maya nodded, "but look, I'm a reporter with the Washington Bulletin, and I think you know something about Planet B? We can talk off the record, but I don't think Agipan deserves to keep this thing secret forever." Maya gestured around them. "Think about all these people losing their homes and devoting their lives to earning Merits. Don't you think they deserve a little transparency about what they're signing up for?"
Redding climbed down from the boat and came toward them. "We deserve the life we are given. With this new world appearing in our hour of need, people finally have faith in salvation. Judgement is part of that path, and I'm thankful to Mr. Park that so many folks can see that now."
Naomi exchanged a look with Maya. Buying the man off seemed unlikely, given his finances, and while she could escalate their chat into a more hostile interrogation, she thought she'd try something else. "You strike me as a family man, Mr. Redding, so let me tell you why I'm really here." She stepped closer. "My little sister is on Themis. She was just recruited a few weeks ago."
She felt Maya gaping at her, but continued, "I know she's free to live her life, like you say, but I can't go the rest of mine without seeing her again. I've always taken care of her, kept her out of trouble," she glanced at the young man, Morgan. "I think you can help me find her. Help me keep her safe." From across the galaxy, she was sure Eliana was rolling her eyes, but it felt good to say.
"What's she want on Themis, then?" Redding asked.
"I don't know," Naomi answered. "She's always worked hard to help people on Earth, volunteering, research… But then she was selected. I imagine someone opened a door for her, and that path seemed like the brightest one to follow."
Redding smiled. "That's how I felt… when I first saw it."
"The Portal?" Maya interjected.
"Aye. Least that's what they came to call it, but when I came ashore that day I called it a miracle, plain and simple." The young man placed a hand on his shoulder. "I know, Morgan, I ain't supposed to talk 'bout it, but maybe she's right that people deserve the truth."
"Come on man," Morgan intoned, "You don't want to mess up what you got going here."
Redding looked past them, listening to the faint churn of the approaching tides, an unstoppable force just beyond the trees and four-car garages. "I been a fisherman for ages, and I know this coast like my own hands. I notice when currents change. I notice when a bit of bluff crumbles away. These last years have seen more change than I like, but I never seen anything like when I found that miracle. And when those scientists came, they never seen anything like it either."
"You found it?" Maya gaped. "You're saying Agipan didn't create the Portal themselves?"
Morgan protested. "That's enough, Tom." The boy seemed awfully interested in keeping the man quiet.
"No, son. I think these folks were brought here at just the right time." He smiled warmly. "A year ago, I'd have sent you packin, but I been thinking hard about things. It ain't right to keep a miracle secret — money or not. I also don't take kindly to breaking up families."
"Where is it?" Maya asked.
Redding chuckled. "Directions are tough at sea, missy. Ain't no street signs."
"GPS?"
"I sail by my eyes and ears, but Mr. Park and his folks have a more modern sense about these things." He smiled and started pacing back toward the boat. "Freeport, Bahamas. Look for the Pegasus. If the Lord wants you to find your sister, that should be enough. And if you arrive at that miracle like I did, you'll find out if you're deserving of passage." He bent his head. "Like I was too afraid to do."
With his back turned, he didn't see Morgan whip out a phone, but Naomi did, and clamped a hand around his arm. "They paying you to keep an eye on this guy?" He tried to wrench his arm free, and they wrestled quietly in place. Redding whistled as he headed back towards the house. She stomped on the boy's foot and pried the phone away as he yelped.
Redding turned around. "Morgan, you behaving yourself over there?"
The boy stared at Naomi, and she let her eyes drift down toward the pistol strapped to her thigh. "Yeah, I'll be right there," he called back, returning Naomi's stare for a moment before retreating.
"You stole his phone?" Maya whispered. "We should see what else Redding knows. A firsthand account of discovering the Portal would really be something."
"I'm not interested in your personal interest story," she snapped.
"It's pretty freaking interesting!" Maya protested. "A woman died because she wanted me to find this guy. In the five years since they announced the Portal, every journalist on the planet has been trying to find this thing."
"That's why we should leave." Naomi insisted. "I don't trust the kid. He's going to tip someone off that we were asking questions, and then our opportunity might be gone." She watched the men for a moment, deciding how much of Redding's tale to believe. If it wasn't Agipan that murdered Maureen Donovan, the killers wouldn't hesitate to torture these men if they thought it would lead to the Portal. But that hadn't happened yet, so Naomi and Maya were ahead.
"Hey, Morgan!" she called out, icily. "Keep an eye on this guy."
Redding looked up, offended by the notion that he needed looking after. "I hope you find your sister, but y'all can get off my property now."
"Time to go." Naomi shrugged at Maya, "Think you can survive another flight?"